Happy Friday Eve my friends!
The weekend is almost here. Can you feel it? Take a deep breath and pause.. there it is. The weekend. :) Just around the corner.
First off I am SO stoked, I got my "assignment" from Kim over at ACuppaKim for the Mug Swap! It's going to be so much fun, I have already been plotting just what I am going to purchase and how I am going to wrap it! This is going to be so much fun. I'll be sure to post pictures and updates as I go. You can bet this is going to be a fun adventure!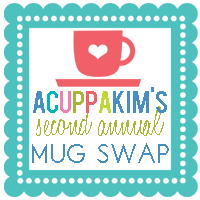 As most of you know I am a fairly musical person. No, I can't play any instrument, and I can't write it but, boy, I love to sing! I find that there are some songs that just sing the words my soul doesn't know how to form. It's wonderful. So when I hear a song that really speaks to me, it seems like it just sticks around. I'll be singing, humming and thinking this song for weeks! I had kind of meant to sprinkle a few of these songs in my posts as I go but for some reason or another I just haven't, so I am going to make up a whole post of them! How do you like that? I'll share my soundtrack! :)
First of is one of my "happy dance" songs. When it comes on the radio, I can't help it I just start to boogie. Even as I drive. Also check this video out... it's well done even for just a lyrics video.
Next is a song that a friend sent me one day, told me that it made her think of me and that just made me smile. So naturally I have listened to it a bajillion times and fallen in love with it.
This is a song that the worship band at my church has sun several times and though I had heard it on the radio several times, it really came alive when I heard it live. I love the message and the way that The *DCB perfectly paired it with that amazing music and rhythm.
This song has gotten quite a bit of publicity lately with the Olympics, and I have just fallen in love with it. I'm not sure if its the guitar, or the marching rhythm or just how dang cute Phillip Phillips is. I've got to say though I find myself drawn to this kind of song though, I find a lot of similarities to the feel of this with NEEDTOBREATH and some songs by Mumford and Sons. It's fresh and new with a kind of old country grunge.
Lastly I have an Oldie but goodie that I have had stuck in my head for a couple weeks now. I know it's a hymn that many people know. But if you really get into the worship of it and then listen to the words, especially right around the third verse. Buddy, I get goose bumps every time.
My sin, oh, the bliss of this glorious thought
My sin, not in part but the whole,
Is nailed to the cross, and I bear it no more,
Praise the Lord, praise the Lord, O my soul!
Goosebumps I tell you! Powerful stuff.
So have you noticed the difference yet? I decided to try a different font. For the font girl that I am, being constrained to the "normal fonts" here on blogger is tough. So I decided to mix it up!
Also I have the urge to go camping. Anyone else ever get this urge? But I don't have a tent... or a cooler... or really the weather for it yet. You better believe though that if the weather cools off anytime soon I just might be planning a camping trip. You want to come? :)
1. Slightly cooler temps. Even if we are still in the 90 most days it feels better than it did!
2. Yummy, fresh produce that our friends and family bless us with!
3. Sweet Friends that "pop" in to see me at work! That just brightens my afternoon.
4. A community of believers to study with. It's just amazing how connected I feel with the lovely ladies at #SheReadsTruth
5. Surprises and planning surprises! I can't wait till Saturday to surprise E with our date! :) It's gonna be awesome!