Good Morning All,
I hope you Monday wrapped up as well as mine did. It never ceases to amaze me how good you feel and how well you sleep when you squeeze in a work out. It doesn't even have to be a big deal just a nice easy work out and man I am feeling good. I'm not sure how I conveniently forget that great feeling when I am trying to talk myself out of going!
Also more hours of Andy Griffith. It's just such a peaceful show and its something that E and I both love. Andy makes for such a nice quiet night in and in the early episodes how completely adorable was little Ronnie Howard. (way back when he still had all his hair) Believe it or not we actually quote the show all the time. I never would have thought Andy Griffith was a show to quote. :) What I wouldn't give to live back in the day in a sweet small town like that. Even though Mayberry isn't a real place it is based on Mount Airy North Carolina, and I think E and I have added this place to our bucket list of places we want to get to in our lives! How fun of a road trip would that be?
Ok so back to my Disney reference. Yesterday I discovered that even as huge and the wonderful world wide web may seem it really is (internet and all) a very small world. I love discovering that I have linked myself in a circle, especially when it comes to blogs. I also love meeting new bloggers and making bloggie friends. I am very excited to be a part of something that will hopefully make the world a little smaller here in the next few weeks.
Yesterday I came upon this lovely little blog http://www.acuppakim.com/ and it's lovely writer Kim has started this neat idea called a MUG SWAP!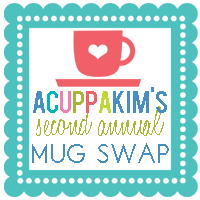 This year is actually her second annual mug swap and it's a really neat way to meet other blogger and just plain lovely ladies out there on the interwebz. Here's the way it works...
First you trot your happy self over here; http://www.acuppakim.com/2012/08/the-mug-swap-is-here-mug-swap-is-here.html and then...

you leave a comment at the bottom of that post.

From there the rest falls into place, you get your "mug buddy" assignment from Kim.

You pick out a super cute/funky/unique/fun mug and...

Send it away!

Then shortly you should receive a mug from another "mug buddy" It's that simple!
I just think it sound like one giant tea party, and if have picked up on how girly I am you understand tea parties tickle me pink! I have already met a few lovely ladies that are also readers of Kim's and are going to be involved in the mug swap! Hey BETH!
All of this mug excitement got me thinking, I would love to try and do a MO blogger "Meet and Greet" I have seen a few other bloggers that have done this and it always seems like SO much fun. It's just an idea but are there any other MO bloggers out there that would be interested?
Lastly I have decided that life is short and that I should have more parties. Seriously, I have friends and we love to get together, also it seems we always say "we should get together more often" So I am plotting.... Muwah.ha.ha... Trying to some up with a good reason/theme for my party! If you have any great ideas or recipes or might just want to come let me know! :)
We Encourage Friendships!
Have a happy and connected Tuesday my friends!