Are you ready friends? I have been waiting for almost 2 weeks to share this post with you!
Where to begin?
There was a fairy princess sweet lil gal named Lydia and she was blog hopping on day and stumbled across an enchanting blog called...
Upon searching around on Kims sweet blog the fairy princess sweet lil gal named Lydia discovered that Kim was full of wonderful ideas most of all something called a Mug Swap!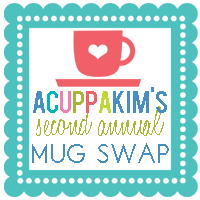 This sounded like so much fun the fairy princess sweet lil gal immediately signed up and eagerly began anticipating her email with all the details!
She didn't have to wait too long for one day she woke up and there in her inbox was the fateful email. It said:
You have been chosen to send a mug super fun package to Miss Erin Alley! (Who blogs over at http://erinalley.wordpress.com/) The fairy princess sweet lil gal got right to work hunting for the perfect mug. It couldn't be TOO BIG or TOO SMALL it needed to be JUST RIGHT. Then she found it!
Cute, Pink, a bit artsy, and it had an E! PERFECT!
She quickly gathered up a few of her favorite warm cozy drinks...
Tucked them away in the mug.... wrote a little note to her new friend Erin....and shipped the happy little package on it's way.
Then it was time to wait... to hear from another new friend! What was she like? Where was she from? Did she like coffee or did she prefer tea?
Then the day came! The package came!
It came just for her and wrapped so cute and adorned with Washi Tape!
Inside was the most adorable little Owl mug the sweet lil gal had EVER seen. Inside was the best reminder to "

Be Happy

"
Best of all Kristi filled that mug to the top with some amazing Dove chocolate.
That's not how the story ends however... Everyone had their sweet new mugs and goodies that were found within them. Then last but not least everyone linked up their mupswap posts with Kim @ http://www.acuppakim.com/ and then everyone lived
I Hope you enjoyed that story and that you have a fantastic week

!
Also... this sweet lil gal enjoyed this all so much... she will certainly be participating again next year! You

should too!